Sometimes you just need a good (healthy) baked good =). Enter in these amazing little Gluten Free Banana Oat Protein Muffins.
These little muffins have 4 high points for us…no flour, no sugar added, they're super easy, and they are SO delicious!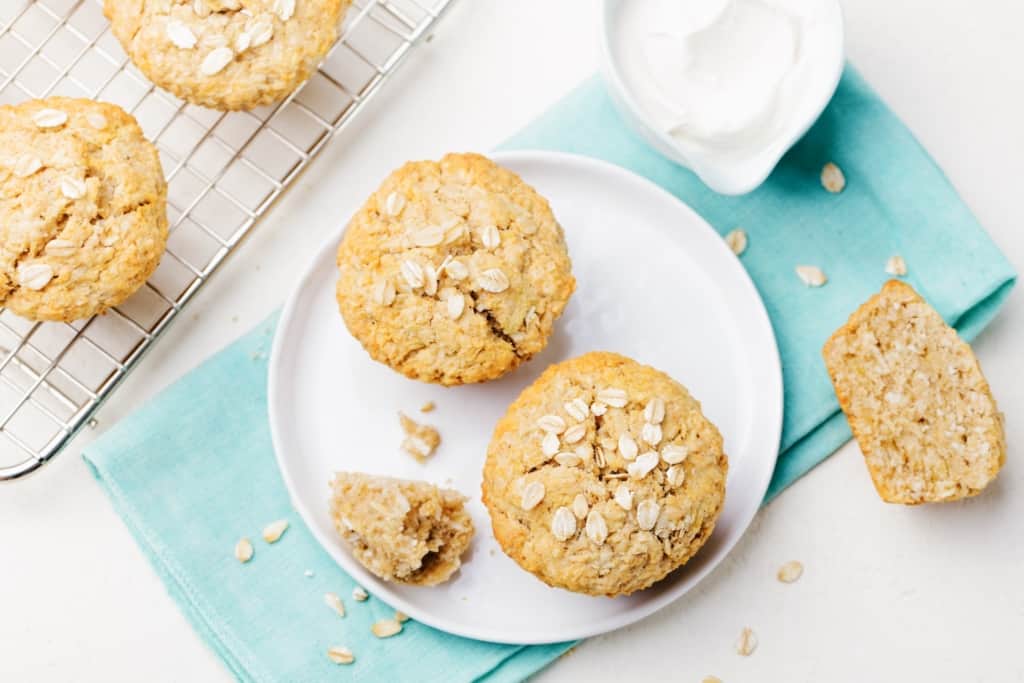 Here's what you need…
INGREDIENTS
• 1 2/3 cup oat bran
• 1 scoop vanilla plant or vegetable based protein powder – we love pea protein! (about 1/4 cup)
• 2 teaspoons baking powder
• 1 teaspoon cinnamon
• 2 small or medium ripe bananas, mashed
• 1/2 cup organic applesauce
• 1/2 cup plain or vanilla greek yogurt (we love Oikos Triple Zero – sweetened with Stevia)
• 1 egg
• 1 teaspoon vanilla extract
INSTRUCTIONS
1. Preheat oven to 400 degrees F. Spray 12 cup muffin tin with nonstick cooking spray or grease well with coconut oil.
2. In a medium bowl whisk together oat bran, protein powder, baking powder and cinnamon; set aside.
3. In a large bowl, mix mashed banana, applesauce, greek yogurt, egg whites, and vanilla together until well combined and smooth. Add wet ingredients to dry ingredients and mix until just combined. Let batter sit two minutes to thicken a little. Divide batter evenly into 12 muffin cups and sprinkle a few Gluten Free Oats on top (just for "pretty" =).  Bake 15 minutes or until toothpick inserted into center comes out clean. Let cool for 10 minutes, then remove muffins from tin and place on wire rack to cool completely.
These are the perfect muffin base to add ANYTHING to! Bake as-is or add in some some berries, nuts, or even shredded carrots! A kiddo favorite is chocolate chips (naturally =).
ENJOY! These muffins are so light and fluffy and fill the bill when you're needing something warm from the oven (while keeping your blood sugar balanced). Guaranteed LOVE. Happy Baking Friends!