Happy Fall Friends!  Say hello to this warm and buttery Peach Crisp.  This is our favorite Fall recipe because it's SO easy + healthy! Our kids feel like they are getting a major dessert – but this mama loves knowing there is NO SUGAR ADDED. The trick is to use ready-to-eat RIPE peaches. The sweetness makes this dessert so heavenly.
We stock up on peaches in the Fall, and once they're ripe, we cut and freeze them in batches of 10. This is an easy, healthy dessert you can enjoy anytime.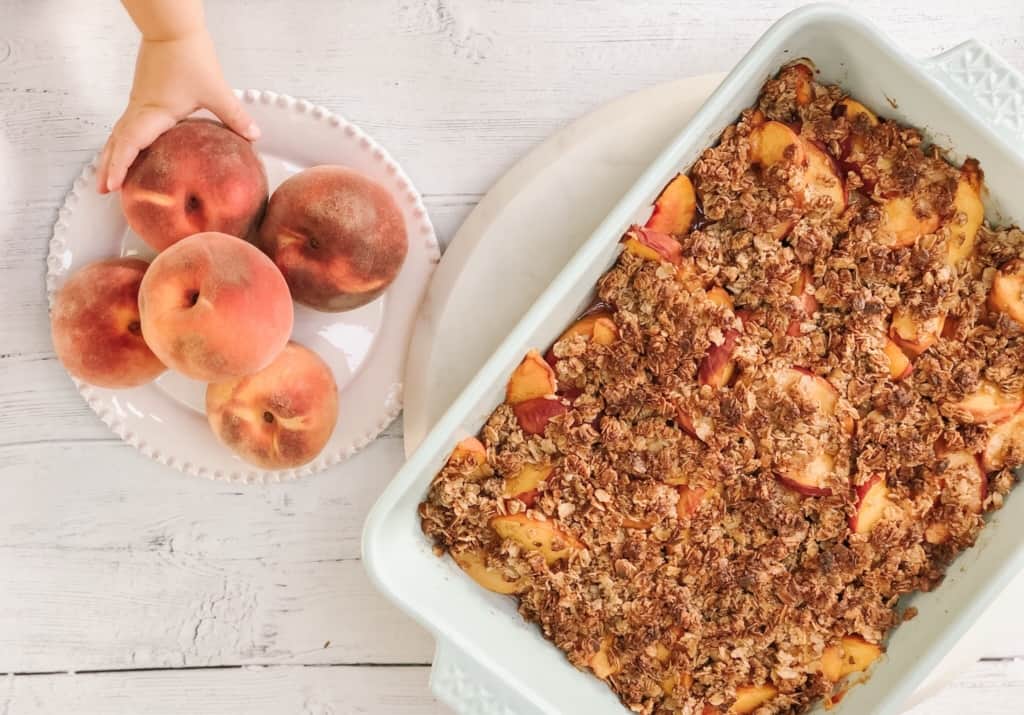 Get to your Farmer's Market and savor this amazing Fall dessert!
Recipe
10 peaches – sliced into 1/4 inch slices
2 cups Gluten-Free Oats
2 tsp. Cinnamon
1/3 c. Agave
Pinch of Salt
6 TBSP Organic Salted Butter (softened)
Preheat oven to 350. Cut your peaches into 1/4 inch slices.  Place into a 9×13 inch baking pan.
Let's make your "Crumble"!  In a separate bowl combine your Gluten-Free Oats, Cinnamon, and Salt. Stir to combine. Cut your butter into six-1 TBSP pieces and add to your Crumble mixture. Use your fingers or a fork to break the butter apart into small pieces to combine as much of the Crumble mixture as possible with the butter. Add your agave and use your hands or a spoon to make sure your Crumble mixture is combined with your butter and agave. Spoon your "Crumble" over your cut peaches. Bake for 20-25 minutes until the top is a beautiful golden brown.
Try to wait until it cools a bit, but the smell is so amazing that it's hard to wait! This dish is so delicious on its own, but you can also spoon a scoop of healthy vanilla ice cream on top or add a dollop of Vanilla Greek Yogurt. Pure Heaven.
ENJOY Friends! Happy Fall!